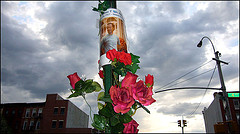 This is a picture of a street memorial for Thomas McAvoy, who was murdered on March 9, 1976. Mr. McAvoy's murder was never solved. There's so many unsolved murders, I don't know why one stands out more than another. Probably because the Time's writer did a good job on this piece.
According to the article, detectives came to a street memorial service and that started Mrs. McAvoy on her current quest to once again try and find out who killed her husband. This really stood out for me. This is something detectives do, go to services and funerals for murder victims, just to see who shows up. But that indicates the detectives were working this case, and it's very unusual for detectives to work on 30-year-old cases without prompting from the family or a reason, like a new lead. If they had a reason, why wouldn't they just tell the family what it was? Anyway, it was nice to read that they were still trying.
The family has asked to see the records of the investigation and the autopsy report (which they can also get from the Office of the Chief Medical Examiner). The NYPD has been slow to give them copies of the records. I wonder if part of the reason for that is they don't want the family to see how small the file was. If there were no witnesses, and no evidence–and with a murder from a single bullet that took place outside, there may have been little evidence beyond that bullet–there wouldn't be much the police could do besides canvassing the area and re-canvassing from time to time. Also, there were 1,622 murders that year, so there was the additional problem of having their hands full. Who would want to hand over a sad, small file?
Since it's unlikely that bullet is still in the NYPD's possession, (they don't have a lot of evidence from 1976 in their warehouses, although they do have some, so there's a chance) aside from finding and re-canvassing everyone who lived or worked around the spot where Mr. McAvoy was murdered, and seeing if anyone who might have seen something but was reluctant to talk might be willing to talk now, there isn't too much they can do today either. Again, it was nice to read that they came to the service and were trying.
I just checked, according to my estimates, there are 701 other unsolved murders from 1976. The McAvoy family is not alone.
(The picture was taken and uploaded to Flickr by someone who calls himself Colorstalker.)