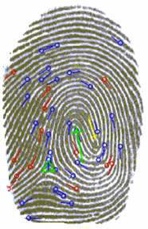 A couple of facts from my book: DNA was used in less than 2% of the cases the Cold Case Squad cleared. At the time The Restless Sleep went to press, the total forensic DNA hits in New York was 1,529. 7% were for murder cases, 72% were for sex crimes.
"In most state or federal systems, for every crime solved with DNA, we solve 26 with fingerprints," according to Ed German, a recently retired Chief of Intelligence for the Army Criminal Investigation Command.
An interesting article by James Randerson called Study questions reliability of fingerprint evidence [the article has since been removed] was published in The Guardian on March 23rd, 2007. From the article:
"The reliability of fingerprint evidence has been called into question by a study that tested whether forensic experts make consistent judgments on print matches.
"Despite the perceived infallibility of fingerprint evidence, the study found that experts do not always make the same judgment on whether a print matches a mark at a crime scene when presented with the same evidence twice.
"The finding comes in the wake of two high profile cases in which fingerprint matches were subsequently shown to be wrong. The Scottish police officer Shirley McKie was wrongly accused of having been at a murder scene in 1997 after a print supposedly matching hers was found near the body."
Given the percentage of crimes solved and convictions that came about as a result of fingerprints, I'd like to know if the study came up with a percentage of incorrect matches found. Without being critical of the concept of using fingerprints as evidence itself, but since fingerprint matching is dependent on training and the skills of the person making the call, the answer is to improve the procedure and oversight. But just how bad is it (not that any mistake is acceptable)?
Fingerprint picture is from: http://www.gradycosheriff.com/