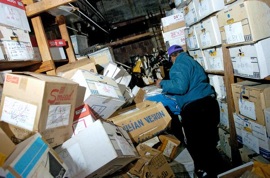 Two Denver Post staff writers, Miles Moffeit and Susan Greene, did a really great job on a piece about evidence storage around the country. From their article: "Authorities across the country have lost, mishandled or destroyed tens of thousands of DNA samples since genetic fingerprinting revolutionized crime solving 20 years ago … In some evidence rooms, chaos and disorganization make searches futile. Others are purged of valuable DNA samples, leaving cases unsolvable.
They did get one thing wrong, but it's a minor thing compared to all the excellent research they did for the rest. They got a hold of an NYPD memo about dumping property, but property is not the same as crime scene evidence. Bottomline, the NYPD did dispose of most of their crime scene evidence, it's just that that memo covers things like lost or stolen property, or, in some cases, things that might have been recovered at a crime scene but later turned out to not be relevant. (But perhaps I'm mistaken about that memo. I'd love to see the whole thing.)
Again, it's a minor point, the article is well done. Click here for the complete piece.