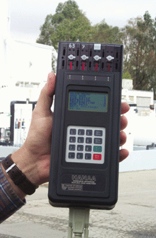 From an article in today's New York Times by Diane Cardwell, "Mr. Bloomberg also announced a less-contentious DNA proposal: a 'six-figure prize' for inventing a device that would allow the Police Department to more quickly and thoroughly analyze DNA at the scene of a crime. The prize, to be paid out of private donations, is 'just one more way we are trying to bring private-sector innovation into the public sector,' he said."
I thought I had looked into devices like this and found a brief mention in my cold case book: "a handheld device now exists that can analyze DNA on the spot at crime scenes. However, 'There are problems with its integration and reliability with respect to meeting government standards for public forensic DNA laboratories,' Dr. Robert Shaler points out." Dr. Shaler was the head of the Forensic Biology Office and the Office of the Chief Medical Examiner when my book came out.
So, I gather they're still working on it. The picture is of an early prototype of a handheld DNA analyzer developed by the Lawrence Livermore lab, that I got from a 2002 issue of Mechanical Engineering. There's no doubt that this would be a valuable device.