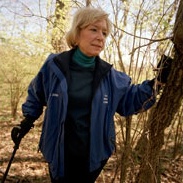 Peter Moskos, a John Jay professor, emailed about this great article by Dan Barry in The New York Times about another recently solved missing person's cold case. (Well, the missing person's part is solved. He was murdered, and that hasn't been solved yet.) From the article:
"The state police publicized a description of what the dead man might have looked like. Dozens answered, hoping and not hoping that their father, husband, brother, son had been found. But nothing panned out. So Dr. Craig applied clay to skull to create a facial reconstruction for the public's consideration; again, nothing. She and the other investigators moved on to other cases just as sad.
They did not know that 1,250 miles away, in the South Texas town of Freer, a distraught mother had reported her 34-year-old son missing.
The bones were placed in a small plastic tub labeled 'Henry Co. Doe' and tucked into an evidence room used to store books, Christmas decorations and the bones of Kentucky's unidentified dead going back 30 years. Here was a tub labeled 'River Legs'; there, a bag labeled 'Shelby County Babies.'"
The photograph, by Angel Franco, is from the Times article. It's a picture of Dr. Emily Craig, the forensic anthropologist who together with The Doe Network, was able to figure out the identify of the 1998 murder victim.