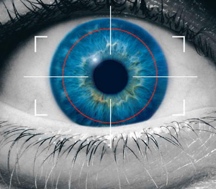 I came across an interesting article about iris scans in Popular Mechanics here [this article has since been removed]. You know, I've never given Popular Mechanics a thought. It has nothing to do with the magazine, but with a wrong idea that it had nothing in it that addressed my interests. That was based on a limited idea of what "mechanics" means and encompasses. Which is a long way of saying if you scroll down at the end of the article there's a list of related articles, all of which look worth reading.
Before I forget, I happened to read that Westchester County has a Cold Case Squad. If you don't see your squad listed here or if you know of a squad or organization that is not listed, please let me know!
The picture is from a 2005 Business Week article about surveillance.