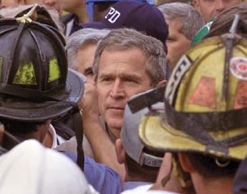 There was a great op-ed in Monday's Boston Herald titled,"Wall needed between politics and policing: President's commitment to constabulary is cop-out," by James Alan Fox. Fox is a Professor of Criminal Justice at Northeastern University.
Highlights …
"Somewhat disingenuously, [Bush] during his re-election campaign stood proudly, shoulder to shoulder, with heroes of the NYPD in photo-ops and television ads, while at the same time depriving the local finest in New York and elsewhere of the necessary federal funds to do the job – that is, keeping us safe not just from external terrorist threats but from the threat of common street crime …"
"In cities with populations of 250,000 or over, the number of sworn officers per 1,000 residents dropped from 3.1 in 2000 to 2.8 in 2004 (the latest figure available), a decline of 8 percent. Meanwhile, the president's proposal for fiscal 2007, like those of previous budget cycles, would further decimate federal programs on which local police agencies have depended to supplement limited local funding.
"The proposed reductions include an almost 80 percent cut of $380 million to Community Oriented Policing Services (COPS) for next year alone.
"The Byrne Justice Assistance Grants (JAG) program, which supports local governments in a broad range of crime prevention and crime control initiatives, received over $400 million last year, but is now slated for elimination.
The president is playing politics with policing, and jeopardizing us all in the process. It was the federal government's initiatives through the COPS Office that was key to much of the success in cutting crime every year from 1993 to 2000.
Compounding the political hypocrisy, the federal government is asking local police agencies to do more, not less, in the face of terrorist threat. If anything, the Bush administration should be increasing local aid to law enforcement, not diminishing it."