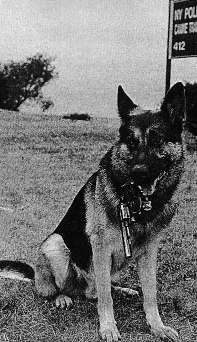 When they;re looking for a body they'll bring a cadaver dog. In one cold case investigation a cadaver dog named Zeus found a body that was wrapped in plastic and buried under concrete four years earlier. To train a dog to find dead bodies they construct something called a scent tube. It's made from PVC and sealed at both ends after inserting a piece of gauze that's been doused with one of the following perfumes: Pseudo Corpse I or II (II is a corpse further along), Pseudo Drowned Victim, or Cadaverine. They get the stuff from the Sigma Chemical Company in St. Louis and it's expensive. In comparison, 1.5 ounces of the famously expensive perfume, Joy, by Jean Patou, which requires the blossoms of 10,600 jasmine flowers and 336 May roses, retails for $100 . The same amount of Pseudo Corpse II would run you $276.75.
These are not great shots of Zeus, I know. I scanned them from newspapers. Zeus's official rank was detective–that's more prestigious than a patrol cop. Zeus did recovery work for the Oklahoma City bombing, and was accepted into the Oklahoma Pet Hall of Fame on January 20, 1996, for locating 24 victims. This is Zeus finding a body at Oklahoma City. "When Zeus was digging," Police Officer Robert Schnelle, his handler, describes, "he was on a mission."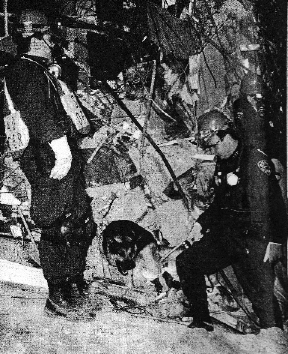 There are half a dozen official cadaver dogs, although because of 9/11 more dogs than usual got some cadaver experience. They don't like to use rescue dogs for cadaver work, though. Rescue dogs are used to finding people alive and finding only corpses screws them up. I remember reading about how rescue workers would hide in the rubble of the Trade Center so the defeated and depressed rescue dogs would have a live person to rescue occasionally.
Zeus worked the World Trade Center bombing in 1993, but he had already been retired for a year when it was attacked again in 2001. His legs were finished, he just didn't have it in him anymore. Then, the following Fall, Zeus developed cancer. A tumor burst that Spring, and he bled internally. Schnelle was at work when it happened and while he got to Zeus in time to take him to the vet, Zeus didn't make it. He would have turned 11.