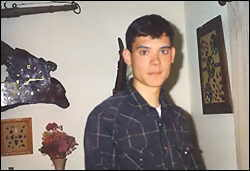 I recently got email from the family of Ricky Dyer, Jr., who died in 1993 in Nevada. His case was ruled a suicide, but his family believes he was murdered. An outline of the case is here. They're also gathering signatures for the Nevada Attorney General here. Obviously I'm not in a position to judge, but independent investigators who have looked at the case seem to believe there is enough there to warrant a more thorough investigation. (I also suggested hiring an independent pathologist to review the entire case file from the medical examiner's office.)
As if murder, death of any sort really, isn't bad enough, these gray-area cases, like missing persons cases, and homicide vs suicide disputes, they're just so unendingly awful. I did a piece for NPR a year or two ago about a family in West Virginia who lost five children in a fire and who, to this day, believe that their children did not die in the fire, but were kidnapped. (Not a comment on the Dyer family, by the way.) It's worse than a cold case, come to think of it.
My condolences to the Dyer family. I hope you get the investigation and answers you seek.