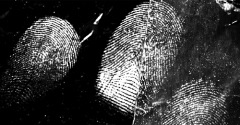 Many thanks to Eric for posting a link to an Nanowerk News article about how nanotechnology is being used to recover fingerprints.
From Nanowerk News: Despite fingerprinting being essentially the foundation technique of modern forensic science, only a fraction of all the fingermarks at a crime scene are actually detected.
Now the work of University of Technology Sydney (UTS) forensic science researcher Dr Xanthe Spindler has made an important step towards recovering usable fingerprints from old evidence and surfaces long considered too difficult by crime scene investigators …
The new method developed by Dr Spindler as part of her PhD work uses antibodies designed to target amino acids and can detect aged, dry and weak fingerprints that can't be captured using traditional fingerprinting methods.
The complete article is here. The image is from the article, it was provided by Xanthe Spindler, and it shows "Latent fingermarks from a male donor developed on aluminium foil."