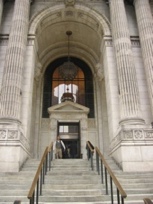 This is a picture of the front of the 42nd Street branch of the New York Public Library, where you no longer have to go to get certain information (although it's a beautiful place, and you might want to go there anyway). I guess I'm old enough that it still amazes me how much information is available online.
Crime reports are available everywhere. For instance, every state has an attorney general, and a number of police departments, and they are publishing information online all the time. I just googled Maryland and got this:
Maryland State Police. The link to cold cases is on the left.
Maryland Attorney General publications.
But there are endless reports out there. They are useful for the public, they are useful for law enforcement to educate themselves about their field. This is just the tiniest sample.
United States Department of Justice publications.
Bureau of Justice statistics publications.
New York State Division of Criminal Justice Services publications.
The New York State Division of Criminal Justice Services also publishes information about their DNA databank. This is interesting to look at to see how many DNA samples are being collected and how many hits they are getting from those samples.
Of course there is still a vast amount of valuable information available in libraries. I just found that homicide reports for 1893-1947 for the New Orlean Police Department are in the City Archives at the New Orleans Public Library. They also have the witnesses statements.