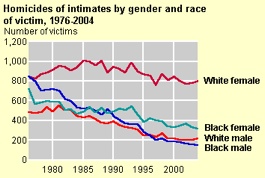 My numbers are rough because I don't have access to all the information I need to be able to say these are hard numbers, but they are pretty good.
In New York you're twice as likely to be murdered if you're black. (That's the figure that's rough.) However, for the United States overall in 2005, the number of blacks and whites being murdered was pretty equal (that doesn't sound right).
In New York if you're black, your murder case is four times as likely to go cold. (That figure is a lot less rough.) It looks like the same is true for asians in New York, but sometimes asians and caucasions were not broken out so I am still working on that one.