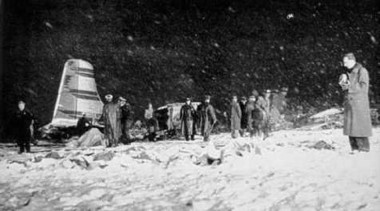 Tom McCarthy, who maintains the website for the NY Correction History Society (NYCHS) asked for help with a presentation he is preparing. From his email:
"It would mark the 50th anniversary of the Feb. 1, 1957 airplane crash on Rikers Island. Thanks to the bravery and team work of staffers and inmates, more than 60 of the 90 or so persons aboard Northeast Airlines Flight 823 were rescued from the burning wreckage that snowy, freezing night.
By any chance, do you happen know of any former NYC DOC staffer who was on the job back in 1957, or know someone who might know of a former NYC DOC staffer from that Commissioner Anna M. Kross era? Depending on their age at the time, any such former staffers would be in their 70s, 80s or 90s.
The first-hand recollections of those who were around then would be helpful in preparing the presentation. Any clippings, photos and other artifacts related to it that they may have saved might also enhance the 50th anniversary presentation that I am preparing for the web site."
You can email Tom at: nychs@nyc.rr.com.
(Pictures of the 1957 crash were found at: http://www.planecrashinfo.com/.)