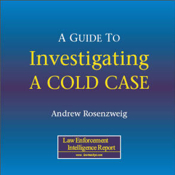 I came across this guide [the link to the guide has since been removed] for investigating cold cases. I haven't seen it, but it's a presentation given by Andy Rosenzweig, a former NYPD guy who is now the Director The Cold Case Forum, LLC. Maybe someone who has seen it can let me know how it is.
In other news, there's a good article in the New York Times outlining some bills under consideration in New York.
More and more attention has been focused on evidence storage, by the way, which is a good thing. I've been meaning to write about what I've learned writing my book, and what I've discovered since. I'm on a deadline right now so it probably won't happen until the summer, but legislation like the bills outlined in Michael Cooper's article are a good thing I think.