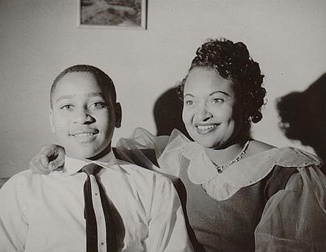 Last Wednesday the House passed a bill that will provide $10 million for the next ten years to go towards clearing close to 100 civil rights cold case murders. The bill includes $2 million per year for state and local law enforcement agencies.
76 of the cases came from the Southern Poverty Law Centre, which has been compiling information about these cases as part of a list they call "The Forgotten." I found one editorial in the Tuscaloosa News that was not in favor of the bill, but the arguments are not convincing, especially given the Hate Group Map on Southern Poverty Law Centre's website (although I wonder about all the groups that are included — on the one hand it's good that it's so broad, hate should not be tolerated regardless of where it's coming from, but on the other hand … it's so broad!).
This picture is of Emmett Till and his mother. Emmett Till was a 14 year old who was murdered in 1955. Not that they weren't all horrible, they were, but Till's murder is just so brutal and ugly and so haunting. I can't forget it.
In other cold case news, state DNA labs and law enforcement in Detroit are making excellent use of $370,000 from a federal DNA grant to go back and do testing for unsolved crimes. They've got hits on 72 cold cases going back to 1976. Good work, Detroit!