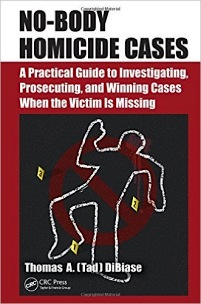 Det. Wendell Stradford of the NYPD pointed me to this blog specializing in no body cases. It's run by former DC Assistant United States Attorney Thomas A. DiBiase.
DiBiase is also the author of No-Body Homicide Cases: A Practical Guide to Investigating, Prosecuting and Winning Cases When the Victim is Missing, which came out last year. DiBiase has consulted on many no body cases, including Etan Patz.
Stradford has been working a couple of no body cases, one of which recently resulted in a conviction.


These cases have got to be some of the most difficult to investigate and prosecute, and for the families, the most heart-breaking. So good work Detective Stradford and Brooklyn ADA Melissa Carvajal.
Update: Louis Perez was just sentenced to 25 years to life for the 2006 murder of Bruce Blackwood.