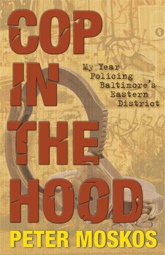 Peter Moskos, an Assistant Professor of Law & Police Science at the John Jay College of Criminal Justice has written a book called Cop in the Hood: My Year Policing Baltimore's Eastern District .
From George Pelecanos, writer and producer for The Wire: Cop in the Hood is a thoughtful, highly entertaining record of a police officer's year spent patrolling one of the country's toughest urban districts, delivered by Moskos, who wore the uniform. For those who are interested in crime and how things work, and for readers seeking a reasoned look at the war on drugs and its implications, this is the handbook.
I went down to Baltimore to interview the Chief of Police while I was doing research for my book, and I have to say, in many ways it looked like being a cop in Baltimore was a tougher job than being a cop in New York. (I'm sorry if this contributes to Baltimore's bad image, something Moskos addresses on his blog.)
For more about this book and Moskos, click here for his blog. There's a chapter from his book, and some very interesting daily commentary about current events relating to crime.