On the evening of 9/11 I walked downtown along the Hudson River, thinking I would sneak into ground zero and somehow help. I was stopped at Pier 40, at Houston Street. Only recovery workers could go below Houston.
Pier 40 was one of the command posts where rescue workers came to rest before going back in. I ended up staying there most of the night. Every few minutes someone like myself would come up to see if they could help (or if they could go home). Everyone was turned away, but before heading back up the highway they'd shake a rescue workers hand and say "thank you."
Now it was mostly cops at Pier 40, and there has always been an adversarial relationship between the public and police here in New York. So the cops just stood there completely dumbfounded. They didn't know what to make of it. "No one's ever thanked us before," they'd say. But they were beyond belief pleased, embarrassed and touched, and at the same time they were trying very hard not to show it. It had always been "us vs them" and now here was "them" making these macho guys choke back tears.
The next day I came back and there were about a half a dozen people on the highway, holding up handwritten signs that said "thank you" to every rescue worker coming in and out the the site. Remembering the reaction I saw the night before I joined them. So did hundreds, sometimes thousands of others. The cheers and the clapping became a roar. I went back to the highway and held up thank you signs every day or night for the next couple of months.
It was intense. You could smell the fire on the guys who passed by on foot. No one was bothering to hold back tears anymore. They'd take one look at the signs, burst into tears, and say, "You're welcome." I will never forget one cop driving by slowly — traffic often moved slowly because there were so many people heading in to help — and she was just sobbing, all the way down into what was then called the pile (later it became the hole).
But usually, if they were in trucks or some sort of emergency vehicle, they'd make the most noise they could. Convoys of dumptrucks and cranes, blaring their horns, miles of ambulances and emergency vehicles from all over the country, sirens going, us screaming, "Thank you Sanitation," (Dept. of Sanitation) or "Thank you NYPD," depending on who was going by, and everyone giving everyone else the thumbs up sign. We were saying to each other, "We're going to get through this."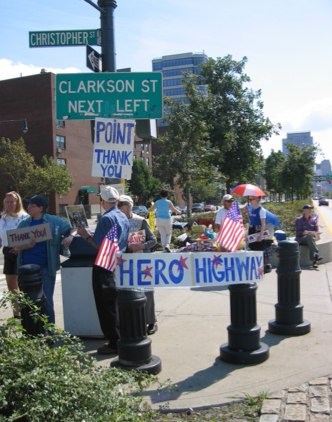 9/11/05. Every year, on the corner of Christopher Street and the highway, people come back and hold up thank you signs.