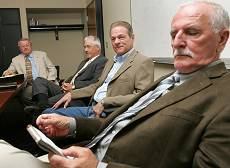 From time to time I get email asking about volunteer cold case units, And I had a link to an article from a Daytona Beach online newspaper here, but the link no longer works.
If you know of other volunteer efforts of the behalf of cold case, please let me know!
Pictured here are Ron Conklin, Steve Miller, Ray Stevens and Robert Brandsma (from the Daytona beach article).