If the police get the bad guys, then the attorneys go in for the kill.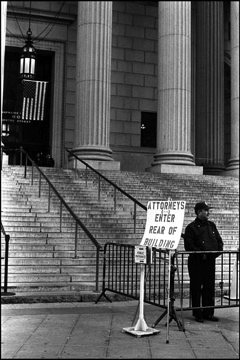 (This picture was taken by an MIT student named Philip Guo in 2001.)
First there are the feds, the U. S. Attorneys who prosecute federal crimes (oh God, I sound like a Law and Order episode). From their website:
The United States Attorneys serve as the nation's principal litigators under the direction of the Attorney General. They conduct most of the trial work in which the United States is a party, and they have three statutory responsibilities:
– The prosecution of criminal cases brought by the Federal government.
– The prosecution and defense of civil cases in which the United States is a party.
– The collection of debts owed the Federal government which are administratively uncollectible.
In New York there are four U.S. Attorneys. The Eastern District, which covers Brooklyn, the Southern District, which covers Manhattan, the Northern District (their office is in Syracuse) and the Western District (offices in Buffalo and Rochester.)
And then there are the local guys, the attorneys for New York City, the District Attorney and the ADAs (Assistant District Attorneys). In New York there are five DAs, one for each borough. In Manhattan, where I live, our DA is Robert Morgenthau. He's something like 200 years old, but he's so good we pray science will keep him alive forever.
There are so many websites I really don't know where to begin. Here's where you can find the office for your U. S. Attorney.
Here's how they're doing. Their felony conviction rate is slowly going up. Good work, attorneys!
I'm including the Brooklyn DA's website because it's actually well designed, and has a lot of useful information that's easy to find.