People often post about a friend or family member who was murdered and then ask for help. All my suggestions for how to proceed are over there on the left under the heading, Getting Help – Contacting a Cold Case Squad.
I suggest first reading the document titled Before You Contact a Cold Case Squad Read This. Then look up the number in the document Cold Case Squad and Other Organizations.
If you can't find a number for your city or town, call your local police department and ask them if they have a cold case squad or a person in their homicide squad who specializes in cold cases. If they don't then ask to speak to someone in their homicide squad. If you don't get what you believe is a decent response, then go to the document on the left titled, Escalating Your Case.
If you have specific questions after reading through the instructions or after contacting your local police department or cold case squad post them here. But please come back to see my response to your question!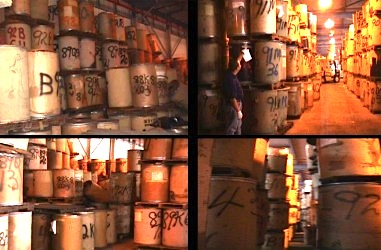 (Those are pictures of the barrels of evidence at the NYPD's Property Clerk Division.)