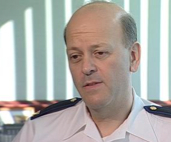 "It's not just about taking this old case off the shelf," says Andy Rosenzweig, director of Cold Case Forum in Newport, RI. "It's about what are they doing now." That's a quote from this article about a possible new cold case unit in Rhode Island.
The picture is of Col. Dean M. Esserman, the Providence police chief. Interesting guy. I found this bio on the Vera Institute of Justice website:
Dean M. Esserman (2005) is chief of police of the Providence Police Department and one of only a handful of federally appointed police monitors in the nation. He also serves as a member of the board of directors of the Police Executive Research Forum, a policing think tank. From 1998 to 2001, he led the Stamford, Connecticut, Police Department as its chief; and from 1993 to 1998, the Metropolitan Transportation Authority Metro North Police Department in New York as its chief. He was assistant chief of police in New Haven, Connecticut, from 1991 to 1993 and counsel to Chief William Bratton of the New York City Transit Police from 1987 to 1991. He began his career as an assistant district attorney in Brooklyn, New York.
Quite the achiever!