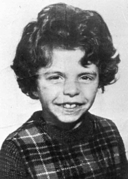 On the West Yorkshire Police website, there is only this stark announcement:
Monday, November 7, 2006
This is an update in connection with the death of eleven-year-old Lesley Molseed whose body was found in Rippenden in October 1975.
A 53-year-old man has been charged with murder and is due to appear at Calderdale Magistrates Court on Tuesday, November 7, 2006.
But then you go here and get the whole sad story.