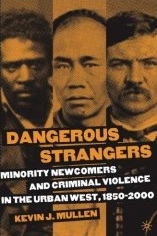 People who have retired from law enforcement are an amazing resource. A lot of that must be due to the fact that they are finally free of all the politics that come with the job. I've been looking into a 1934 San Francisco case and I was referred to retired Deputy Chief Kevin J. Mullen. His website.
He couldn't help me with that particular case, but he immediately came back with the fact that there were 39 homicides in San Francisco that year, then he explained how this particular case might have fallen through the cracks in the coroners records, and finally he gave me the number for the San Francisco Public Library. Since I could have easily looked that number up myself, it was a level of helpfulness that stood out for me. And I loved having that homicide total for the year.
But even better, when I wrote back with the number of homicides in New York in 1934 — 400, and 154 of them are still unsolved — he immediately and rightly pointed out that given the populations of the two cities, the murder rate was actually pretty much the same. He said their solve rate was probably better, which is almost certainly true. Not a dig against New York, the greater the population, the lower the clearance rate, generally. This is true nationwide.
He has written two other books in addition to the one pictured. He said, "My interest in this aspect of the justice system is mostly sociological," which is also true for me, so all his books are of interest, but the one pictured is the most intriguing for me. (Although his book, The Toughest Gang In Town: Police Stories from Old San Francisco, looks great too.)
One of the blurbs: "Ex-cop Kevin J. Mullen investigates 150 years of lethal mayhem in San Francisco, and what he uncovers in the history of the city's successive newcomers–Australian, Latino, Irish, Asian, Italian, African American–will no doubt prove as controversial as it is illuminating. Rigorously grounded and thoughtfully nuanced, Dangerous Strangers elevates the issue of urban homicide rates among America's immigrant subcultures to a new level of discourse." –Robert R. Dykstra, Emeritus Professor of History and Public Policy, SUNY Albany.
Someone wrote an article about volunteer cold case squads around the country made up of retired homicide detectives, but I can't find it. It's a good trend, although unless the retired detective doesn't need the money they really should get paid. I have a few cold case organizations made up of retired guys in my list of cold case squads.