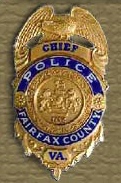 I recently got email from Detective Mark Pfeiffer of the Fairfax County Police Department's Cold Case Unit. He was giving me some corrections to my list of cold case units. I became aware that Fairfax has a unsolved sex crime unit.
I am so glad to hear that unsolved sex crimes units are being created. Tom Jackman of the Washington Post wrote an article about the Fairfax squad on February 13. From his article. "Most police departments don't have the resources or manpower to form a squad devoted solely to sex crimes. Phoenix started the first one in 2000; Baltimore, Charlotte and Dallas also have one or two full-time cold-case sex specialists."
The other issue is the statute of limitations for sex crimes. It's different from state to state, but in New York the statute of limitations is so short it's immoral. Someone can rape a child and if they manage to allude capture for a few years, they're free. Not that someone should be able to get away with raping anyone, but the argument for a statute of limitations is that it's hard to prove consent years after the fact. It's equally difficult to prove a lack of consent years after the fact, so that's a wash, but for a child it doesn't even apply. Sex with a nine-year-old child, for instance, is never consensual. Virginia doesn't have a statute of limitations for rape.
Solving sex crimes could ultimately help solve unsolved murders as well. When detectives in New York look through unsolved murders for ones they think they can solve, they look for female victims first, because with a sex crime–often a component of a woman's murder–there is likely to be more evidence. The murderer got closer to his victim, a savage intimacy that provides more serological evidence, fingernail scrapings, hair and fibers. Find the rapist, find the murderer.
Some states from the U.S. Department of Justice website:
– Convicted rape and sexual assault offenders serving time in State prisons report that two-thirds of their victims were under the age of 18, and 58% of those–or nearly 4 in 10 imprisoned violent sex offenders–said their victims were aged 12 or younger.
– In 90% of the rapes of children less than 12 years old, the child knew the offender, according to police-recorded incident data.
– Among victims 18 to 29 years old, two-thirds had a prior relationship with the rapist.
– Four datasets (the FBI's UCR arrests, State felony court convictions, prison admissions, and the National Crime Victimization Survey) all point to a sex offender who is older than other violent offenders, generally in his early 30's, and more likely to be white than other violent offenders.
Great work Det. Pfeiffer, and everyone else in your squad. If anyone else knows of other unsolved sex crime units, please let me know. I'd love to add them to my list.