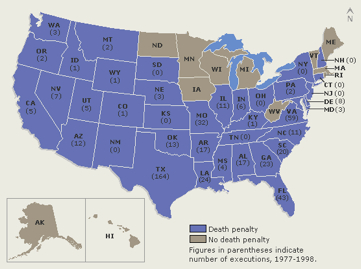 History of Capital Punishment in New York.
1778-1887: hanging
1888-1964: electrocution
1965-1973: no death penalty
1974-1977: electrocution
1978-1994: no death penalty
1995-present: lethal injection
(Except, isn't it in limbo somehow now?)
From the Bureau of Justice website:
In 2005, 60 persons in 16 States were executed — 19 in Texas; 5 each in Indiana, Missouri, and North Carolina; 4 each in Ohio, Alabama, and Oklahoma; 3 each in Georgia, and South Carolina; 2 in California; and 1 each in Connecticut, Arkansas, Delaware, Florida, Maryland, and Mississippi.
Of persons executed in 2005:
– 41 were white
– 19 were black
Fifty-nine men and one woman were executed in 2005.
Lethal injection accounted for all of the executions.
Thirty-eight States and the Federal government in 2005 had capital statutes.
The map was courtesy of http://encarta.msn.com.
(Forgive me, I feel I must out myself. As strongly as I feel that murderers must be caught and imprisoned, I am against capital punishment. Even though, I too, think that some people should not be on the planet.)