The Museum of the City of New York recently made a collection of digitized images available online. The New York Public Library has had a searchable database of images for years, but it's exciting to have a new resource of new images.
The MCNY is still getting the kinks out, but I did a search on the word "murder" and these images came up. The pictures were taken by Jacob A. Riis in 1895.
The caption for this one reads: Bottle Alley Mulberry Bend in its worst days, picture used as evidence in murder case—cross on stairs shows where murderer stood and did shooting.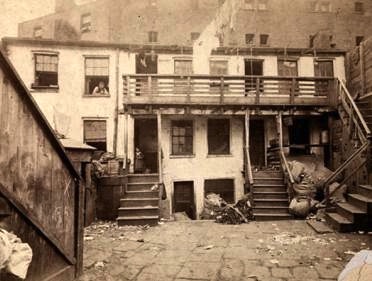 The caption for the one below reads: Bottle Alley Mulberry Bend, X shows where the victim stood when shot. It's hard to see the X, but it's on the bottom of the staircase to the right.
There was also a few words handwritten along the top one: Headquarters of the Wbyo Gang.