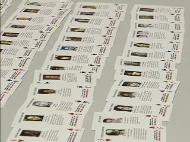 When I first read the words "cold case playing cards" I immediately moved on. I thought they were like those serial killer cards, meant for entertainment. But this is actually a program that came out of the Broome County Sheriff's Office, and the cards are meant for inmates who might be able to provide tips. Apparently they got the idea from a Florida program (that was a joint project between the Florida Department of Law Enforcement, Department of Corrections, Attorney General's Office and the Florida Association of Crime Stoppers) that has had [link no longer active] some success.
I read about the program here (and that is also where the picture comes from).
I know detectives do get a lot of tips from inmates and cards with cases and information that might jog memories seems like a great idea.