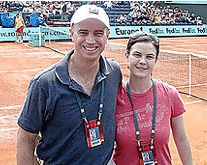 Author and television producer Paul LaRosa started a blog this year called, The Murder Book 2008 [my link to it no longer works and I couldn't find a new one], which he describes as "A record of all the murders in New York City in 2008 that appear in the city's three daily newspapers." I like that someone is keeping a running record like this, and it feels a tribute to the unfortunate dead. But the interesting thing he's doing is, he's going to compare the number of murders reported to the total number of murders. Who wasn't deemed fit to print?
The picture is of Margaux Powers, and the post about her begins, "Margaux Powers, a 26-year-old white female (photo left with her father Michael), was found dismembered in her Chelsea apartment bathtub Saturday night, just hours before her boyfriend — Jonathan Smith, 34 — apparently jumped to his death from a building in lower Manhattan, according to a story in the Daily News."
LaRosa also posts updates about the crimes and crime stats. FYI Paul and others: It's often reported that reliable stats for murders in New York begin in 1963. It might be more accurate to say reliable stats kept by the NYPD. The Office of the Chief Medical Examiner keeps their own record of all the deaths (and homicides) in New York. They include all homicides, including "justifiable homicides," which the NYPD does not, but I believe they have reliable and accurate data.