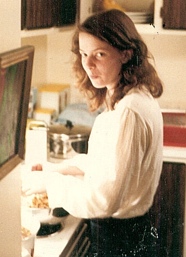 I once posted about all the murder victim billboards across America. They're generally put up by the families of the victim and they ask (beg) people who have information to come forward. Now people use the internet. I came across a blog called Who Killed Theresa? It's about Theresa Allore, who was murdered in 1978, and it was put up by her brother John.
I've seen a lot of blogs (or websites) but this one stands out for me. I think it's because you get a sense of who John is. He's smart, articulate, open — he's an impressive champion. There's so much life there that the overall effect is: you feel the loss of Theresa more.
If I could give any advice to families putting up websites, it would be to put yourselves into your effort. And not just in relationship to the person who is no longer there. Tells us who you are. I know this sounds odd, but having more of a sense of you dramatizes better–and I hate to say it–the hole that is now there in your lives. (I'm sorry.) With John's website I see him going on, living his life, but nonetheless haunted by the knowledge that Theresa didn't get to.
Okay, more advice: good writing matters. Don't overwhelm people with pages and pages of writing, and bad writing. You don't have to be a great writer, I'm not a great writer, but just the act of trying and giving it some thought will help. Keep entries concise, and be as candid and frank and honest as you can. I think the more people feel they know you, the more they might be willing to help you.
(The picture of Theresa Allore is from the Who Killed Theresa? blog.)