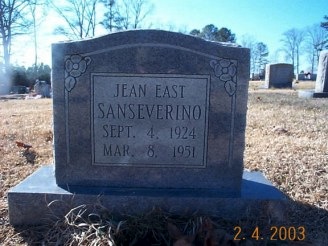 Please let me know that you exist. If you look over to the column on the left there's a link called Cold Case Squads and Other Organizations.
For the past few years I've been maintaining a list of cold case squads around the country. If you don't see your squad or related organization on this list, please email me the contact information for your squad or organization so I can add you to my list. Thank you!
This not only helps the friends and families of murder victims but other squads around the country and the world who need to contact you.  (The picture is of the grave of one of the murder victims I wrote about, Jean Sanseverino.)
Here's something disturbing. When I first started researching my book I made a list of all the detectives and commanding officers in the NYPD's Cold Case Squad. The disturbing fact is at the end of the list.
Cold Case Staff
Commanding Officer: Deputy Inspector Vito Spano
Executive Officer: Lt. Robert McHugh
Manhattan
Lt. Antonio Collazo.
Det. Dominic Andreno
Det. Stefano Braccini
Det. Dexter Honora
Det. Sylvia Bone
Det. Robert Santiago
Det. Wendell Stradford
Brooklyn
Sgt. Dennis Bootle
Det. Carl "Chuck" Harrison
Det. Brian O'Toole
Det. Daniel D'Alessandro
Det. James Dudziec
Det. Toni Vanzetta
Angelo Cioffi, retired, kinda.
Queens
Lt. Phillip Panzarella
Det. Steven Kaplan
Det. Oscar Hernandez
Det. Michael Solomeno
Det. Tommy Wray
Det. Pat Dolan
Det. Kevin Cashen
Det. Mike Carrano
Bronx
Sgt. Robert Galvin
Det. Steven Berger
Det. Margaret Fisher
Det. Kevin Lauler
Det. Michael Navarez
Det. Mark Tebbins
Det. Pablo Moss
The last I heard there are only 12 people left in the squad. (And they started out with around 50.)